The Examples…

Young conductors are often asked: "Who is your idol?". And the big names that almost everybody will tell you are probably Karajan, Abbado, Bernstein and Carlos Kleiber. Of course, I side with the majority; those conductors have left tons of extraordinary recordings (with exception of Kleiber, whose recordings are few). But if you look at their videos on YouTube, you will see the music present in their entire being. They become the music. In my view, this is what conducting is about. I admire many conductors from the 'old' school, because their interpretations were more subjectively personal and, in a sense, more unique. The names of Furtwangler, Mengelberg, Bruno Walter, Leopold Stokowski, Georges Prêtre and Carlo Maria Giulini come to mind. We are lucky to live in times when so many historic recordings are easily accessible and we can learn from the greatest masters of the past.
The Composers…
I am originally from Bulgaria, so perhaps I should start with composers from my own country: Ivan Spassov, Lyubomir Pipkov and Pancho Vladigerov. Unfortunately, few people outside Bulgaria know them. From the contemporary composers, I particularly like the piano music of Albert Guinovart, an extraordinary talented Catalan composer. Perhaps the most important choral composer of today is James MacMillan. He has found a way to communicate universal truths through a uniquely eclectic style. I also love Alfred Schnittke's music. Listen to his magnificent Concerto for Choir, his Requiem or his Cello Concerto No.2, for example. The last one is like a cathedral of sorrow, and I doubt that any other composer of the late 20th century has understood the idea of suffering and salvation the way Schnittke did in his works. If you look for a Dostoevsky in modern music, look no further! In the world of opera, I admire the music of the Mexican composer Daniel Catán; especially his masterpiece Florencia en el Amazonas. Catán passed away quite young in 2011, but his operas are now being produced worldwide.
The Colleagues…

When I was living in Barcelona, I had the opportunity to work with Raúl Jiménez, the best coloratura tenor of his time. 25 years ago, he was what Juan Diego Flórez is today. Raúl invited me to work with him in a production of Rossini's Il Signor Bruschino, for which he was the stage director. The invitation came suddenly and I had only three hours to learn the entire score before the first rehearsal. Raúl is a stage director now who seeks the meaning of every gesture in the music, and Rossini's music is his second nature. From him I learned a lot about belcanto style and the meaning of all this coloratura, which is much more than fast notes.

For several years I worked as a conductor at the Antalya National Opera in Turkey. While there, the opera chorus, of which I was the artistic director, joined the Berlin Radio Choir for a performance of Carmina Burana at the annual Aspendos Opera Festival. It was a magical night: 250 great musicians sung and played on the stage of the ancient Roman amphitheater in Aspendos under the baton on Simon Halsey. Simon is like an alchemist-magician, he understands the chemistry of a choir, knows perfectly how to obtain results from singers and can create a sound that is rich and colorful, yet always in service of the dramatic needs of the music. I admire colleagues who, like Simon, treat you always with respect, no matter how big of a career they have. One often hears that the greatest in our profession are the most humble. It is absolutely true!

With Raul Jimenez in Barcelona 2012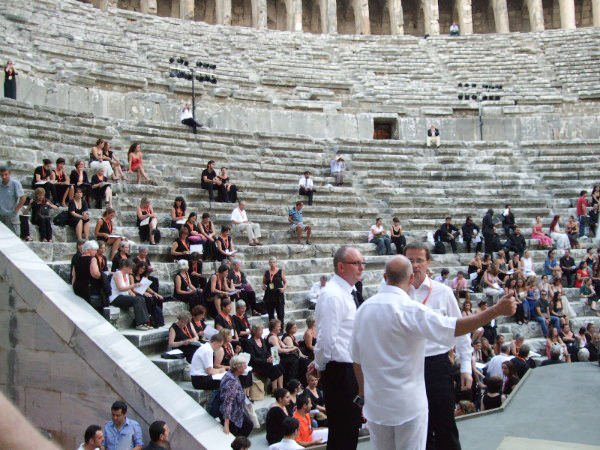 Aspendos Opera festival, 2010


The Masterclasses…
Nowadays masterclasses are used mainly to create connections. But if one is open, and the ego does not get in the way, one can learn a lot. Frieder Bernius and Lutz Köhler, both Germans, helped me find answers to many questions about the essence of our profession. The old tradition of German conducting, which they represent, focuses on a search for meaning; meaning that can be reached through a complete understanding of the musical form. Every detail in the score is there for a reason! This makes the study process long and difficult, but it is the only recipe against mediocrity. If you are a young conductor reading this, find a masterclass they are teaching, and go! It will change your life!

Donato Renzetti, a great Italian conductor, also helped me a lot. His knowledge of the operatic repertoire is mind-blowing. Renzetti taught me how to relate the little details in the score to the larger idea of phrasing and style. For example, a simple "oom-pah-pah" accompaniment in Bellini or even Verdi can kill the musical line, if not shaped as a part of the melodic gesture. Nothing in a musical score has an independent existence; every element of the texture must support the life of the entire organism. Meaningful interpretation of Italian opera is impossible without such understanding. It is much easier to become involved in small details and lose control over the big picture.

Unlike Renzetti, who was most friendly and generous, Bruno Aprea – another well-known Italian maestro – was pretty much the opposite. I worked with him in Leon, Spain, and, frankly, did not enjoy the experience. Aprea did not find a way to "come down" to our level and kindly share his wisdom. His huge ego was always in the way and everything was about him. We all felt like dummies, unworthy of his presence. But I learned an important lesson: what not to do! From all the masterclasses that I have attended, this one was the only disappointment.

I had the pleasure of learning also from Mark Shanahan and Alan Hazeldine, both Englishmen, who focused their attention on technique. The clarity in modern conducting is crucial. Rehearsals nowadays have become a luxury and conductors have to be extremely efficient. Unfortunately, Alan Hazeldine passed away in 2008 and Europe lost one of its finest conducting teachers. I am grateful for having had the opportunity to meet him.

I love to attend and, when the opportunity arises, to accompany masterclasses for young singers.
One of the greatest sopranos of the second half of the 20th century is Raina Kabaivanska. I met her in Siena, Italy where she teaches vocal masterclasses every summer. In the morning I was attending the conducting masterclass of Gianluigi Gelmetti and in the afternoon, I was listening to Kabaivanska teach young singers. She is a grand lady, with an exquisite sense of style in everything she does; no wonder she is one of the best operatic actresses of all times. Kabaivanska has a very rare gift: she creates a special atmosphere around her, as if the air becomes suddenly charged with calmness, beauty and finesse. The moments in Palazzo Chigi Saracini in Siena, Italy with her and her students were unforgettable.

In 2014 I had the joy to be a part of two masterclasses led by the phenomenal Bulgarian Soprano Darina Takova; one was in Barcelona and the other in Ruse (as a part of March Musical Days Festival in Bulgaria). She is like a lioness who gives away all she has: energy, passion, love and attention. Darina is absolutely direct with the students, and although it is sometimes difficult to hear the truth, it is the only path for real progress in this art. A great teacher is always honest!

Monserrat Caballé used to share some of her secrets in yearly masterclasses in Zaragoza, Spain. For a couple of hours, the auditorium looked like a gym: everyone stretched on the floor, doing gimnasia! For her, a perfect control of the body is essential in singing and correct breathing comes from a good muscle control. Caballé is a charismatic woman and I felt honored to be among the auditors in her sessions (although I skipped the gymnastics). When she entered the room, everyone spontaneously stood up, electrified from her personality. It is a mystery how the mere presence of a truly great artist affects us so strongly. Monserrat Caballé is such figure – one of the greatest divas from the past.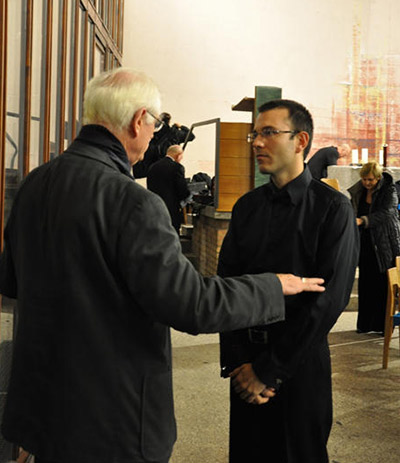 With Prof. Lutz Köhler in Berlin 2013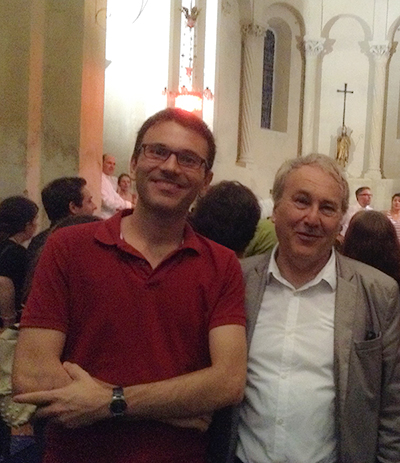 With Frider Bernius in Vaison-la-Romaine 2014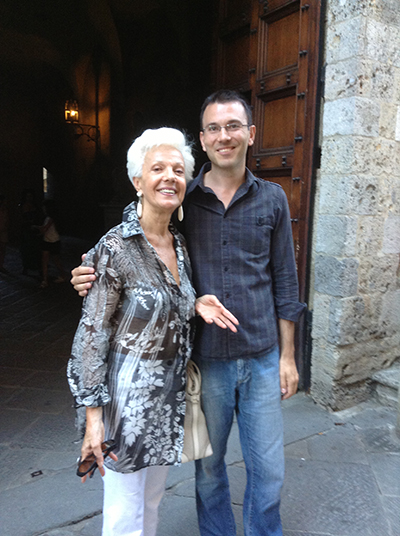 With Raina Kabaivanska during her masterclass in Siena, Italy 2013



With Monserrat Caballe after her Masterclass in Zaragoza, 2012



With Donato Renzetti in Terrassa (Barcelona) 2012


The Teachers…
"The people who influence you most are the people who believe in you," said Henry Drummond.

I studied mostly in Bulgaria, and one of my very first teachers in conducting was Krikor Chetinyan. I had a long and special relationship with him. He taught me not only how to conduct, but also how to work with people, and how to care for their souls. Chetinyan suffered from a debilitating illness for more than a decade, and I have never known anyone with a spirit as strong as his; a spirit able to transcend all suffering and limitations of the body in the name of Art. He worked and made music until his last breath, and nothing could stop him! In the past decade, we organized several masterclasses together; he was fully devoted to helping young conductors and had an encyclopedic knowledge to share. One of the best choral conductors I have ever known.

My other teacher in Bulgaria was Miroslav Popsavov. Some people say that students are copying their teachers unconsciously. I feel that this is true. It is like learning a great recipe from a great chef, you always try to imitate the way the master does it! Popsavov is among the world-renowned authorities in Orthodox choral music. He studied to be a priest, but his enormous talent led him in the direction of music. He has a strong personality and an irresistible charisma, which makes you immediately want to follow his lead. After my graduation, I became his assistant with the choir of the Opera in Plovdiv, my home town, and this was actually my first full-time job as a conductor.

Ignasi Cristià is an artist who I met in Barcelona. He is a renowned scenographer who has taught acting in Institut del Teatre in Barcelona and has organized numerous exhibitions in prestigious museums throughout the world. As a true man of the theatre, Ignasi understands the opera world inside out. I would call him 'a teacher,' because while working with him, for the first time I truly understood the role of the visual image in an opera production. Don't get me wrong, I am not talking about whether a production looks pretty, but about the way a scenography must reflect the mood and the atmosphere of the score. Ignasi is a master of that, with him every detail speaks. He is also larger than life, and has encouraged and inspired me to never give up in my difficult profession.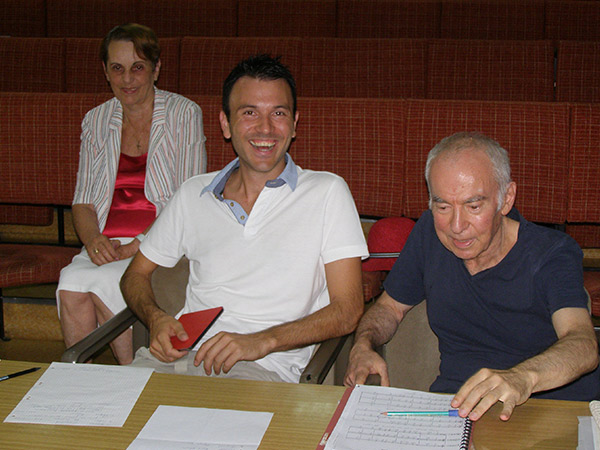 With Krikor Chetinyan during the First masterclass for conductors, 2015 (behind us prof.Vasilka Spassova)

With Prof.Miroslav Popsavov
during the Second Masterclass
in Plovdiv, Bulgaria,
2016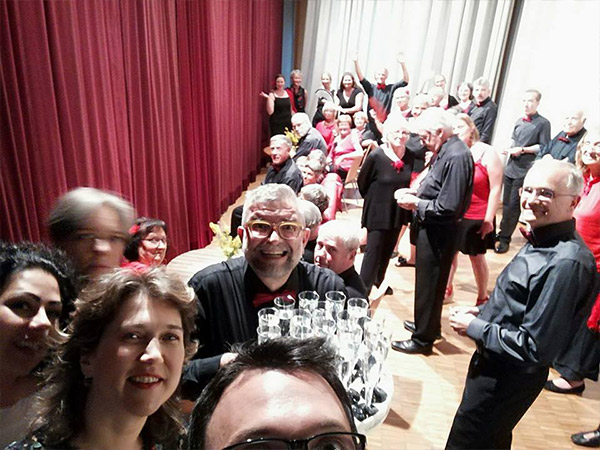 Ignasi Cristia (with the tray with cups) ready to act in Strauss's "Die Fledermaus" during concert in Germany, 2018
The Profession...


Many musicians think that the baton is the easiest "instrument" of all. Would you take a violin and simply start playing? Of course not! Same is with conducting. First, you need systematic and rigorous training. The academic programs where one can really learn how to conduct require, in addition to individual conducting lessons, four to five years of advanced music theory, ear training and piano. There are many universities nowadays, particularly in the US, which offer Masters degrees in conducting in only two years. I think this is mere business, not education.

To be a conductor you need to understand human psychology, because you work every day with people who bring their problems, and it is you who has to transport them, emotionally and intellectually, to a completely different reality through music. The more I age, the more I believe that this is nearly an impossible profession. To learn how to make good music, one needs to acquire a deep understanding of the human condition. This cannot happen through life experience alone; the modern digital world is way too shallow with its countless distractions. It can happen through reading books, through looking at great paintings and through hours of reflective solitude. I once had a music history professor who used to say: "You cannot understand Bach if you have never looked at the eyes of a Rembrandt portrait". As a conductor, I always look for such connections. When Sir Simon Rattle was once asked what is the most important quality that a conductor should have, he replied: "Imagination!" But this imagination is not pure fantasy, it comes from a highly developed sense of culture. When I was young, I was thinking that conducting is all about what I do with the music. I was profoundly wrong. Conducting is about making the musicians in front of you love the music they play or sing. This is the only way to bring the true message of our Art to the hearts of the audience.